Simulation Game 'TramSim Munich' Recreates a Beautiful Streetcar Experience in the Heart of Europe
The successor to TramSim Vienna simulates the workday of a streetcar operator in Munich, Bavaria // Release on PC is due on November 4
October 6, 2021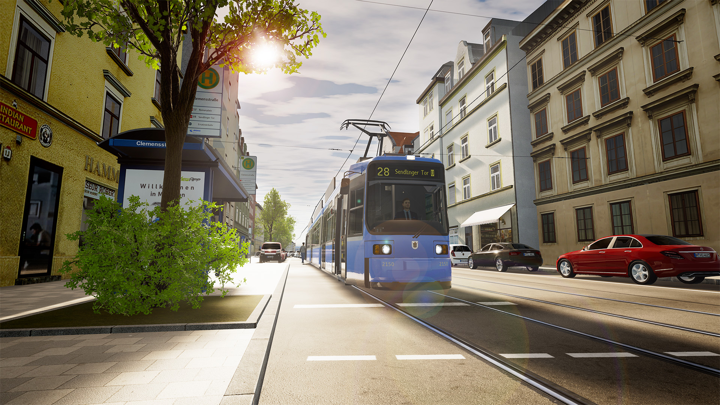 Paderborn, October 6, 2021 | Sim game publisher Aerosoft and development studio ViewApp announced TramSim Munich during gamescom 2021, now the company has set a release date: The streetcar simulation will be available on November 4, 2021 for PC (via Steam, among others), costing 34.99 EUR.
The game provides a detailed and lovingly crafted simulation of driving a tram on a realistic track in a real city, picturesque Munich. The game includes the completely new vehicle design of the classic streetcar R2.2b including all features. 
With this new game, the TramSim series grows into a platform. While each TramSim game can be played standalone, new features or enhancements, such as the dynamic weather system currently under development, will be included in all TramSim titles. Owners of a vehicle DLC can use it in all parts of the series. In addition, a showroom is available where players can check all vehicles from all cities, try them out and also add their own paint jobs.
Features 
3 streetcar lines: 23, 27 & 28 implemented in detail and authentically in full length
Authentic streetcar model R2.2 b in the new, modern re-design of Munich's public transportation service 
Authentic line change operation 
Original audio announcements 
Dynamic passenger and pedestrian behavior 
Dynamic weather 
The city of Munich depicted with landmarks, historic buildings, squares and museums