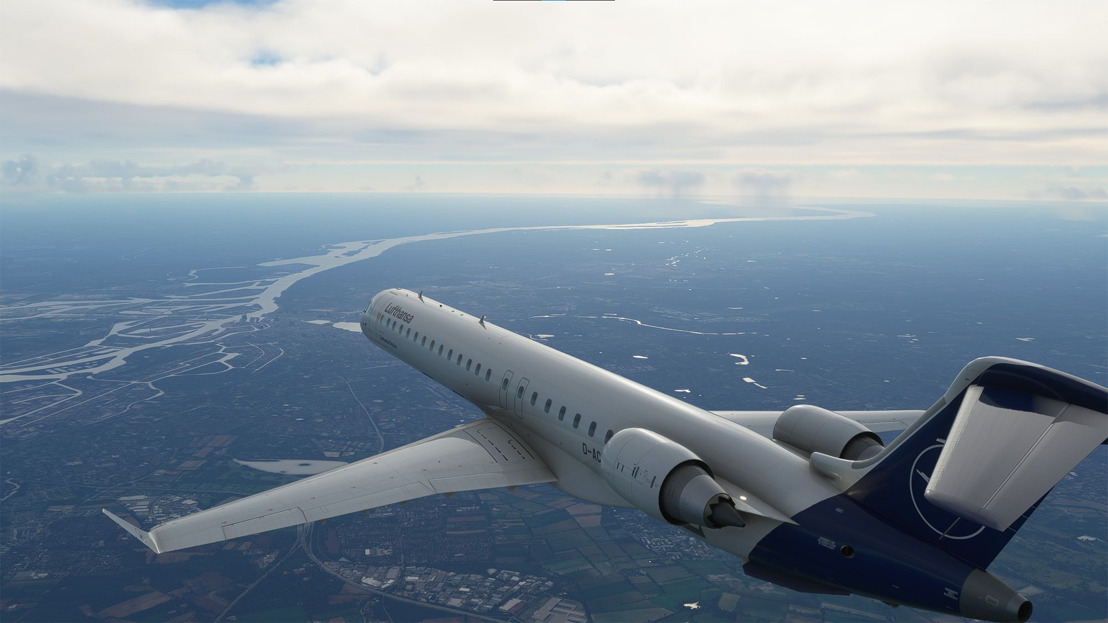 CRJ for Microsoft Flight Simulator Now Available in XXXL Size
Wider! Heavier! Longer! Aerosoft introduces two new variants of its regional jet CRJ for Microsoft Flight Simulator
Paderborn, Germany, November 11, 2021 | The CRJ (Canadair Regional Jet) family for Microsoft Flight Simulator is growing: The simulation specialists at Aerosoft proudly present two new variants of their sleek regional jet, the CRJ 900 and CRJ 1000. Those two models are the largest of their series and surpass the CRJ 550/700 models, released as an addon on March 16, 2021, in almost all counts. The best: Both versions have a significantly higher range. As a result, CRJ pilots now have more choice in destination airports and routes.
The CRJ 900/1000 upgrade costs € 19.99 and is available in the Aerosoft store. In addition, all four CRJ models (550/700/900/1000) are offered in a complete bundle for € 69.99. CRJ 900/1000 is an expansion to the CRJ 550/700 addon for Microsoft Flight Simulator and is only playable in conjunction with it.
CRJ 900/1000 - a little bit more of everything
With a length of 39.1 m (CRJ 900: 36.2 m) and a wingspan of 26.2 m (CRJ 900: 24.9 m), the CRJ 1000 towers above the smaller models and is 3 tons heavier than the CRJ 700 when empty. Due to the equally increased payload capacity, the maximum take-off weight of the CRJ 1000 is even around 7.5 t (CRJ 900: approx. 4.3 t) higher than that of the CRJ 700, which of course affects its flight behavior.
Despite the higher capacity, both new models have a significantly wider range than the smaller models (CRJ 700: 2,593 km) at 2,871 km (CRJ 900) and 3,056 km (CRJ 1000), with a maximum speed of 473 knots (876 km/h). This gives PC pilots more options in route and airport selection.
To find more information, visit Aerosoft on the web, Facebook, Twitter, YouTube and Instagram.
Screenshots