Alpine - The Simulation Game Coming for PC and PS4 in November
Sim game experts Aerosoft publish the first ever ski resort simulator for console
September 30, 2021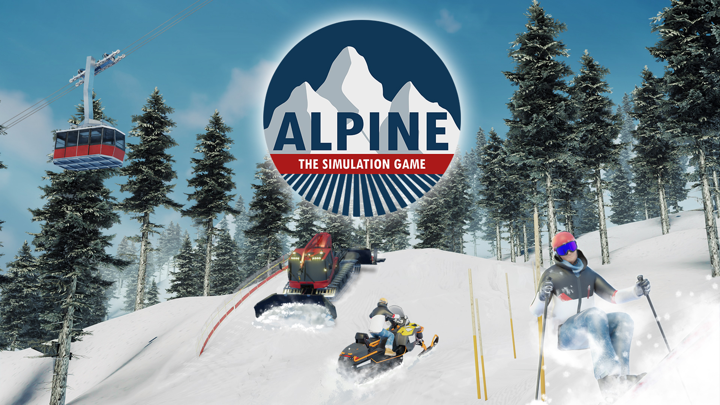 Paderborn/Germany, September 30, 2021 | Aerosoft and HR Innoways announce the upcoming release of Alpine - The Simulation Game – the game will be available for PS4 and Windows from November 23, 2021. It's the first ski resort simulation that will also launch for console. 
About the game: Players manage the fictional ski resort of Oberbruck, transforming it step by step into an attractive hotspot for winter sports tourists. ​ In a varied single-player campaign, they explore the detailed open-world map and a broad variety of tasks to be completed. New ski slopes, ski lifts and cable cars as well as many kinds of vehicles will ​ be unlocked as they progress. By completing the missions, they'll gradually expand the ski resort to offer their guests a top-class skiing experience. But players can also strap on their skis themselves and enjoy skiing down the slopes they have been grooming.
"Alpine - The Simulation Game delivers a varied simulation experience with a visually impressive Alpine setting," says Max Rudorfer, founder and CEO of HR Innoways. "We wanted to create a well balanced simulation between realism and fun gameplay that particularly suits the needs of console players and I guess we've been quite successful with that." "Alpine is the first ski resort simulator for console and it's a lot of fun to boot," says Winfried Diekmann, CEO of Aerosoft. "This is why it provides easy access to the world of simulators."
Alpine - The Simulation Game will be released on Nov. 23, 2021, at a price of 29.99 euros for the PlayStation 4. For the PC, the simulator is already available at a price of 24.99 euros. The simulation game is available in German, English and 7 other languages. ​
The features
Campaign mode with a variety of story missions
Groomed slopes with original licensed Pistenbullys 
3rd person skiing mode with detailed animations
10 different vehicles with individual sounds and physics
Detailed open world map that changes and expands throughout the campaign
Unlockable areas, vehicles, cable cars and objects