Aerosoft Announce the Winners of Their Home Cockpit Contest
Who has built the best home cockpit for playing flight sims?
June 14, 2021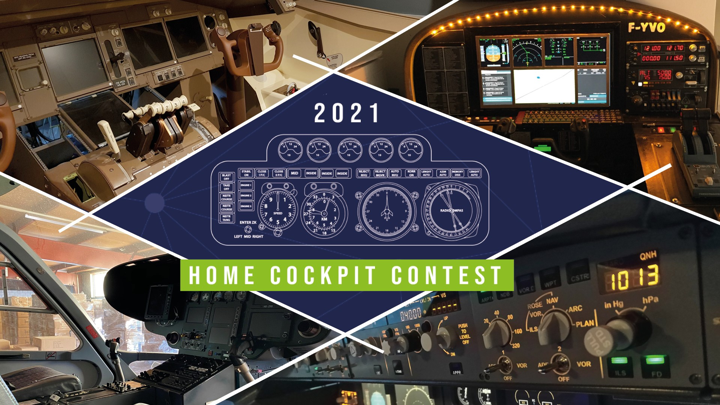 Paderborn/Germany, June 14, 2021 | Aerosoft, a publisher of simulation games, called for flight sims fans to show off their home-built cockpits for authentic flight simulation gaming! More than 50 virtual pilots responded with spectacular photos of their gear to be judged by the four-member jury. There were two categories to compete in: "Creative Cockpit" and "Realistic Cockpit".
Here's the winners:
Creative Cockpit: Terry Swindle from the USA. The jury based their decision in part on the variable model options and design: "In both categories it was super difficult to pick a winner. They all had their aspects that made us say 'wow, very good idea!'. In the "Creative" category in particular, it was exciting to see what some people had come up with - whether in electronics or design. Terry convinced us with the possibility of simulating many different types of aircraft, including the use of VR. The good design and the large aircraft model collection round off the whole picture even more."
Realistic Cockpit: Patrick Messerschmidt from Germany. The jury's statement: "In the "Realistic" category, it's about creating a cockpit that is as detailed as possible. If original parts are used in the construction, this is of course all the better. To add an original airplane toilet is a really cool and funny detail, which was the deciding factor in Patrick's cockpit project. The ventilation only comes on when the generators supply AC power and in case of emergency the original oxygen masks still fall out of the ceiling. It is a pity that the toilet itself does not work, but things can always change."
Both winners will receive an Aerosoft Shop voucher worth 500 EUR. 
"The decision was really difficult; so many entries were really close for us," says juror Raphael Jakob, Product Manager at Aerosoft. "Of course, we knew beforehand that many flight simulator fans are quite dedicated. Nevertheless, we were just blown away by the consistently high quality level of the submissions." ​ 
Aerosoft have published a selection of images related to the contest entries on a dedicated web page to highlight the work and dedication of the contest participants.
Find more information about Aerosoft on aerosoft.com, at Facebook, Twitter, YouTube and Instagram.